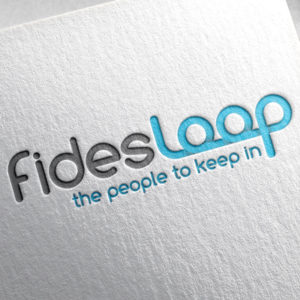 I'm sure, most of the sellers on Flipkart Marketplace must have seen the New Rate Card from Flipkart which is going to be effective from mid of this month (15 March 2017).  This has been celebrated in Media including leading newspapers saying it's a "wow" move.  And, many customers are also eyeing to grab the deal starting 15 March 2017.
Even the Seller Panel is changed with a nice banner stating "Marketplace FEES SLASHED".  Are you excited???
A snapshot of the communication which Flipkart sent out to the Seller Community below.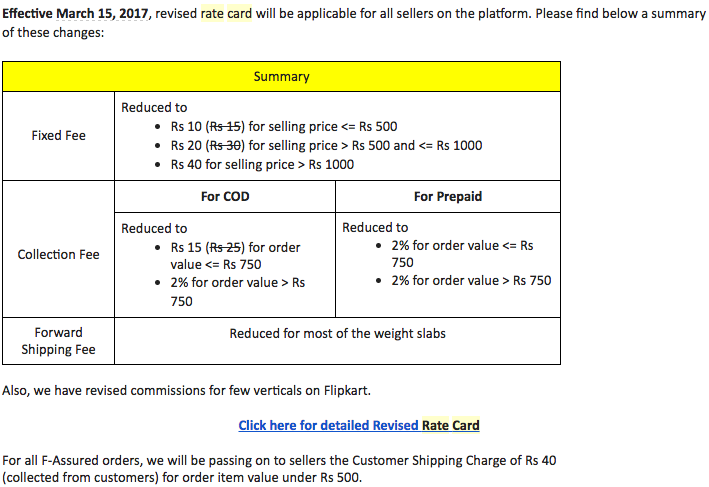 Well well well, enough for the media & sellers to be excited about.  For a moment, everyone thought that this is going to help everyone.  Sellers will see a reduction in the Cost of Selling (Commission + Fixed Fee + Collection Fee + Shipping Fee + Reverse Logistics Fee), so they can pass on the extra benefit to Customers.  Customers will see a better deal in Flipkart in terms of pricing & good for Buyers.  Flipkart will also benefit because they will see an increase in order volume thus increase in revenue from sales.  Theoretically, good for everyone!!!
It's a real WOW for all, isn't it?  Let's find out before we jump up of Joy!
Let's take the main components of this really "exciting news" one at a time & analyse in detail.
Changes in Fixed Fee
They mentioned that the fixed fee is reduced by 40-50%. WOW, percentage game can do a lot!  And, in the communication, they clearly explain how much is the change.  And, silently they're adding another slab for goods having selling price > Rs 1000.  Please note, a decent majority of goods will fall under this range.
So, is this a decrease or an increase? Let's check other components before concluding.
Collection Fee
Yes, they mentioned that it is reduced to Rs. 15 from Rs. 25.  But at the same time, they changed the slabs as well.  Which means, for any product with Selling Price > Rs. 750 see a flat 2% charged as collection Fee.  Which means, it is unchanged though they project it like 40%.
It's blinder attempt!  They just wanted to play the number game & make sense from their end considering that their numbers are already fumbling.
Shipping Fees
Wow, they mention that shipping fees "Reduced for most of the weight slabs" like an incomplete statement to keep us interested.  Now, consider a simple example of a product less than 500 g.  The shipping fees for a product falling in that slab will see an increase of Rs. 5 in local shipping fee while they see a decrease in Zonal & National Shipping fees.
Now, as per Flipkart's policy, sellers can not charge more shipping fees from Customers & sellers can maximum charge up to the amount Flipkart Charges.  Which means this change has no or minimal impact.  A nice way to fool media & common man seller anyways.
Now, let's consider the aspect of Geo-tagging where Flipkart's algorithm will try to give more sales from the geolocations near to you.  Which means, this is going to increase your cost of selling, huh!  Ahem, a silent attempt to fool sellers?
Marketplace Commission
Really? They didn't even mention anything of this sort?  Remember, this is the biggest component which contributes to over 70-80% of your cost of selling on Flipkart.  And, they just acted like a dumb & deaf guy without even saying anything.
I've talked to many of the sellers and the Commission amount for most of the categories seen an increase of about 60-150% hike.  Which means, the selling fees for those categories is going to shoot up.
And, they did not even utter a single word on this?  Wow.  That's like playing over smart!!!!  And media just "ignored" this.
Let's consolidate!
Since Sellers need to match shipping fee with Flipkart's rate, shipping rate changes will have minimal/no impact in our pricing unless a seller offers Free Shipping to our customers.
It will mainly help people selling <= Rs. 750 Products. They may save anywhere from Rs. 18-29 (approx.)
After Selling Price of Rs. 750, the Collection Fee is @2% and the impact will get nullified when the Selling Price reaches Rs. 1000.
After Selling Price of Rs. 1000, it has no impact as such. In fact, they see a loss of Rs. 5 (approx.) which may get nullified if you offer FREE Shipping.
MOST IMPORTANT:  Most of the categories are seeing over 100% Increase in Commission.  All the above points are assuming that the commission for your category is not changed.
In a nutshell, this is just a marketing gimmick from Flipkart & NEVER EVER fall into their trap.  I would request sellers to calculate the cost of selling in detail before going ahead in reducing Selling Prices on Flipkart.
Optimal Selling Price Calculator
I've prepared a calculator for the benefit of the Seller Community & you can Download the Optimal Selling Price Calculator HERE.  I hope, this will help you to understand the cost of selling & margins at a high level.
Here are some of the sample calculations done using Selling Price Calculator for Mobile Accessories Category where the commission is unchanged.  You may see different charges & overall savings/loss in the snapshots below.  And, you could download the Optimal Selling Price Calculator & try the same for your category.
Selling Price <= Rs. 250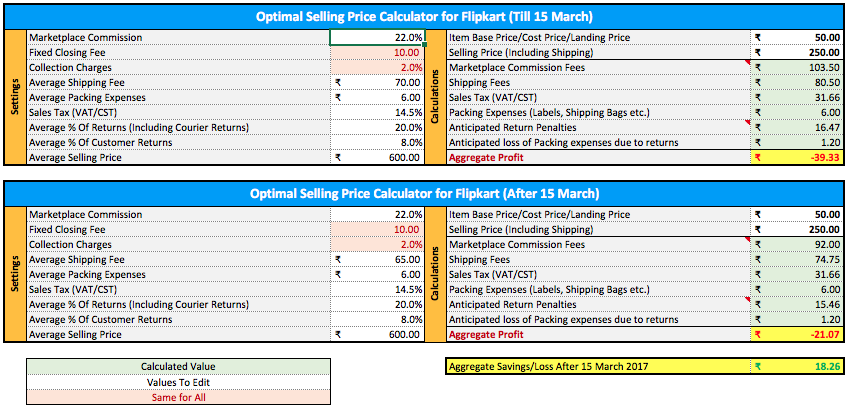 Selling Price > Rs. 250 and <= Rs. 500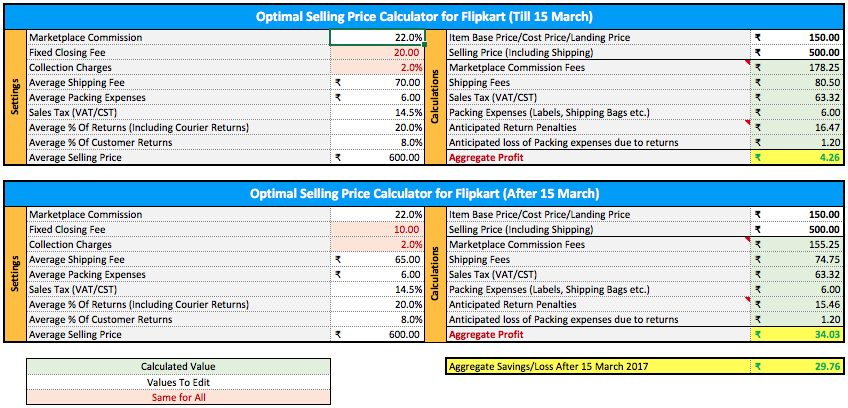 Selling Price > Rs. 500 and <= Rs. 750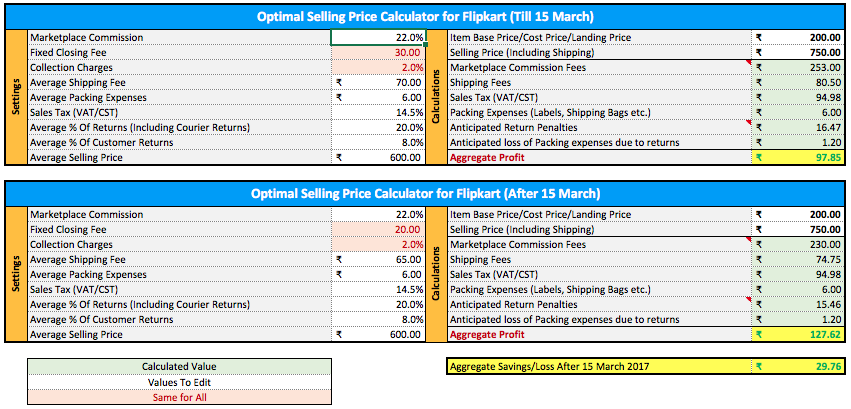 Selling Price > Rs. 750 and <= Rs. 1000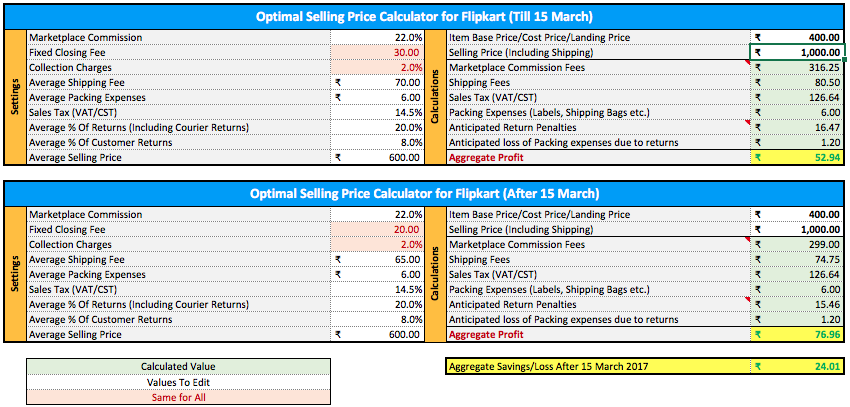 Selling Price > Rs. 1000 or more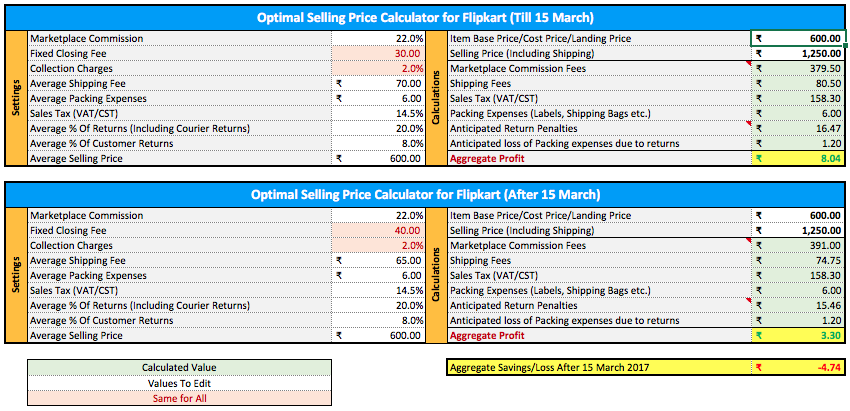 So, if you agree or disagree with me, please share the same in the comment section below.  I would request you to make use of the comment sections to pass on your feedback or suggestions & we will try our best to incorporate the same going forward.  Also, please let us know if you wish to know more about a specific topic.
And, if you like it, do not forget to share the article.  Subscribe to our Newsletter if you wish to hear more from us.  Cheers!